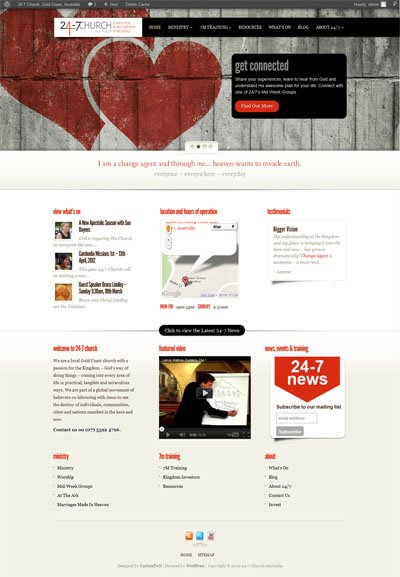 24-7 Church Gold Coast Australia Custom WordPress Site and Blog
Everyone. Everywhere. Everyday.
We are a local Gold Coast church with a passion for the Kingdom – God's way of doing things – coming into every area of life in practical, tangible and miraculous ways. We are part of a global movement of believers co-labouring with Jesus to see the destiny of individuals, communities, cities and nations manifest in the here and now.
Our journey of faith as a community has shaped who we are today – a committed, loyal, loving, real and relational group of people in pursuit of an awesome God. Our culture is characterized by prayer, worship, the wonderful presence of God, prophetic flow, healings, covenant relationships and a culture of honour.
If you're visiting the area or looking for a local church family, we invite you to get connected, join us for our Sunday 9.30am Service and check out up coming events. We look forward to meeting you!
Comments from 24-7…
" "
Order Your Custom Site
Custom WordPress Site and blog. Elegant Themes has done it once again for the 24-7 Church Gold Coast Australia team. A wonderful rotating header, Google Maps, Testimonials area starts the site off right, finalizing with a widgetized footer that includes a custom newsletter opt in, embedded featured YouTube video, hot links and social badges wrap up this clean design.