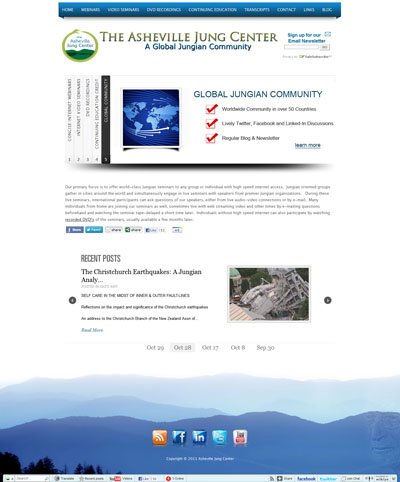 Asheville Jung Center Custom WordPress Site & Blog
Asheville Jung Center

Our primary focus is to offer world-class Jungian seminars to any group or individual with high speed internet access.  Jungian oriented groups gather in cities around the world and simultaneously engage in live seminars with speakers from premier Jungian organizations.   During these live seminars, international participants can ask questions of our speakers, either from live audio-video connections or by e-mail.  Many individuals from home are joining our seminars as well, sometimes live with web streaming video and other times by e-mailing questions beforehand and watching the seminar tape-delayed a short time later.  Individuals without high speed internet can also participate by watching recorded DVD's of the seminars, usually available a few months later.

Order Custom Background

Custom WordPress Site & Blog using the Headway WP Developers version theme. This site includes the premium Slidedeck plugin for both services introduction and recent blog post rotation. Custom footer and newsletter opt in header complete this custom theme.