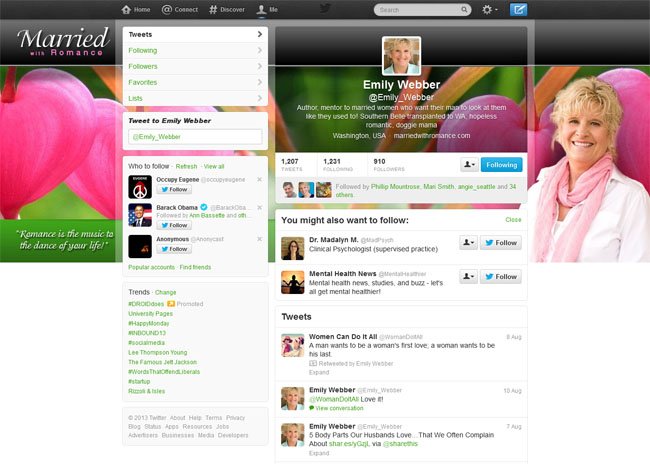 @Emily_Webber Custom Twitter Background Skin, Twitter Header & Avatar
@Emily_Webber
"'Attention' is the currency of romance in marriage!" Emily Webber
Emily Webber shows you, married women, how to be special to your man again…to get his attention, have him look at you the way he used to and to treat you like out of all the women in the world, you are the one!…so you can be more playful together, feel cherished, adored, protected and hear him say, "That's my wife!"
Custom Twitter Background Skin, Twitter Header & Avatar


Comments from Emily…
"Thank you, Brian, for my lovely new website! It was such a pleasure working with you and building it "hands on." And I got a surprise in the process! You taught me how to go into WordPress and easily make changes myself and also the proper way to set up SEO! You are not only talented at web design but also you are a patient teacher!
Most of all…excellence is as important to you as it is to me! I feel like you incorporated excellence into your work and also required it of me.
Thank you again!"
Order Your Twitter Package
Custom Twitter Background Skin, Twitter Header & Custom Twitter Avatar for Emily Webber and Married with Romance. Simple yet, professional and elegant design. Seamless social media branding across her entire network.
If you like this premium custom graphic, please share below…