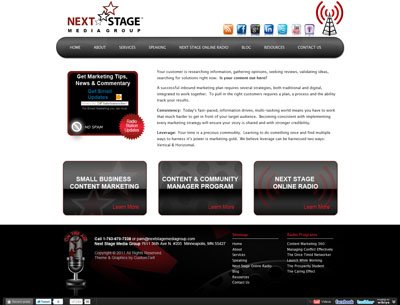 Next Stage Media Group Custom WordPress Site & Blog
Your customer is researching information, gathering opinions, seeking reviews, validating ideas, searching for solutions right now.  Is your content out here?

A successful inbound marketing plan requires several strategies, both traditional and digital, integrated to work together.  To pull in the right customers requires a plan, a process and the ability track your results.

""

"Order Custom Background

Custom WordPress Site and blog with widgetized footer. 3 Call to action main areas, social links and custom newsletter opt in and Wibiya tool bar. Also used of Smart Slidedeck to create an interactive blog page.