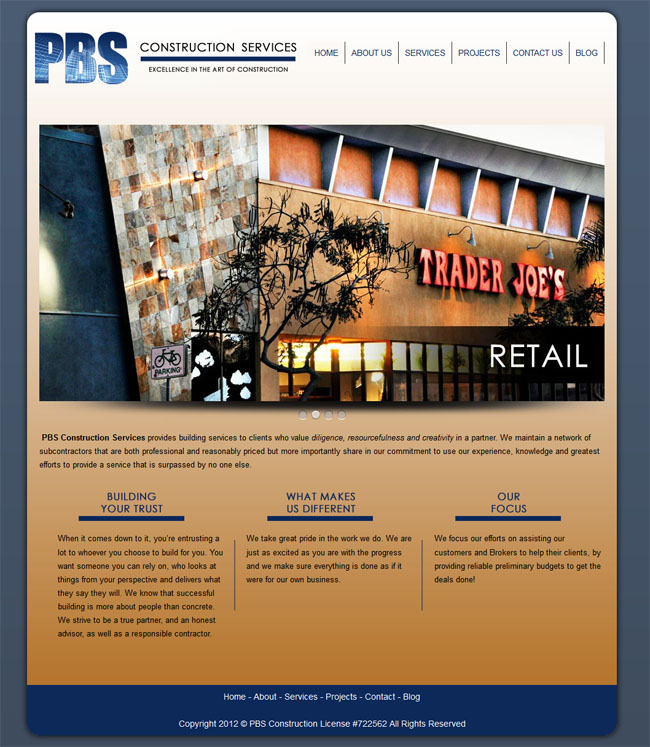 PBS Construction Services Custom WordPress Site & Blog
PBS Construction Services
provides building services to clients who value
diligence, resourcefulness and creativity
in a partner. We maintain a network of subcontractors that are both professional and reasonably priced but more importantly share in our commitment to use our experience, knowledge and greatest efforts to provide a service that is surpassed by no one else.
http://pbsconstructionservices.com
Custom WordPress Site & Blog


Comments from PBS..
"In just 16 hours of working together, you created a masterpiece. From inception of the new logo to the completed website, I cannot express to your future clients how easy and painless you made this process. Between your organization, creativity, Skype sessions and holding me and my team accountable, you scored a homerun and we couldn't be more pleased with the outcome. Thank you for articulating and capturing the essence of PBS Construction Services."
Order Your WordPress Site and Blog
Custom WordPress site and blog using the fabulous Widgetkit by YooThemes allowing for stunning photography of retail construction, restaurant construction, tenant improvements, and much more for PBS Construction Services. "Excellence in the Art of Construction". This is a simplistic design featuring many previous projects from PBS. Simple forms, plugins like ShareThis and Google XML sitemaps top off the elegant design.
If you like this premium custom graphic, please share below…