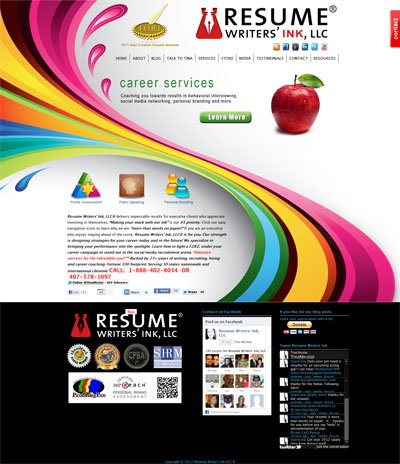 Resume Writers Ink Custom WordPress Site and Blog
Resume Writers' Ink, LLC® delivers impeccable results for executive clients who appreciate investing in themselves."Making your mark with our ink" is our #1 priority. Click our easy navigation icons to learn why we are "more than words on paper!" If you are an executive who enjoys staying ahead of the curve, Resume Writers' Ink, LLC® is for you. Our strength is designing strategies for your career–today and in the future! We specialize in bringing your performance into the spotlight. Learn how to light a F.I.R.E. under your career campaign to stand out in the social media recruitment arena. "Inklusive services for the inkredible you!"™ Backed by 23+ years of writing, recruiting, hiring and career coaching. Fortune 100 footprint. Serving 50 states nationwide and international clientele.
Comments from Tina…
"I cannot thank you enough for my gorgeous website Brian! It is absolutely functional AND beautiful! You were an absolute pleasure to work with. Since completing the project, my business has increased exponentially with executives and professionals nationwide!
Your honesty, directness, and knowledge on web site develop is truly a gift. Glad to work with a person who understands the evolution of web development as well as understanding my clients needs.
I have had increased traffic, positive feedback, and increased business!
I look forward to hiring you again!!"
Order Your Custom Site
Custom WordPress Site and blog. Headway Theme with super colorful home page inviting the guest with custom header and social badges,  image slider, icon and valuable SEO text. Finalizing with a widgetized footer which includes the Facebook Like Box and Twitter feed and company branding.