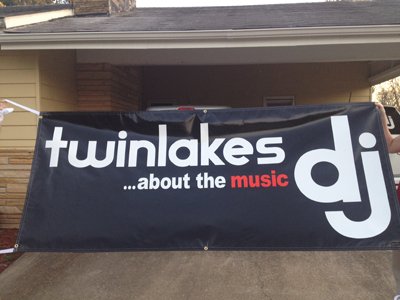 TwinLakes DJ Custom Banner
Twin lakes DJ is about the music.  Your next event will access our huge music library where no genre is off limits.  50's, 60's, Top 40, today's modern club hits, Country, Classic Rock, Big Band, or the Blues.  No request is ever off limits.
Our equipment is professional and the right fit for any type of event. The light show is modern and is designated to fit along with your music choices.  Our sound equipment is adjusted to be pleasing during all parts of your event. Whether you need soft and low during the dinner portion or party time where CRANK IT UP is never out of the question.  We meet your needs.
Order Your Custom Logo
Custom Logo & Full Size Banner