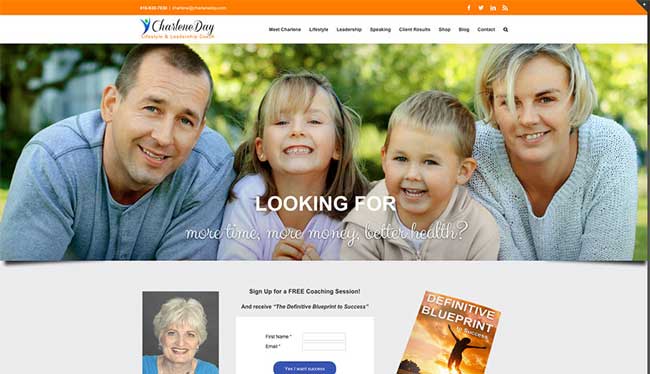 Charlene Day Business WordPress Design Site & Blog
Charlene is a Lifestyle and Leadership Coach, Mindset Breakthrough Mentor, facilitator, author, and speaker. Her expertise in the areas of wellness, lifestyle counseling, holistic health and entrepreneurial coaching is the result of more than 45 years of study and practice. She is a Master Practitioner in Neuro-Linguistic Programming (NLP), a Registered Nutritional Consultant, has a Bachelor of Spiritual Science, and holds a Diploma in Social Work.
Highlights of Charlene's early career include a busy massage therapy practice, therapeutic movement instructor, spiritual healing and meditation teacher, holistic coaching, teaching college nutrition classes and as an environmentalist, she focuses on environmental links to breast cancer and how to save the lakes. Charlene had the honor to be one of the presenters at the First World Conference on Breast Cancer.
Custom Responsive WordPress Business Theme Design with Blog.

Comments from Charlene:
"Brian is the best! He has created various sites for me and they are all so unique. He is a great graphic artist and that ability comes across in the building of any website. He also helps out with Facebook and social media. He is very knowledgeable in those areas as well. So I highly recommend his work." ~ Charlene Day

Order Your WordPress Blog Package
If you like this premium custom responsive WordPress design. Please share below…