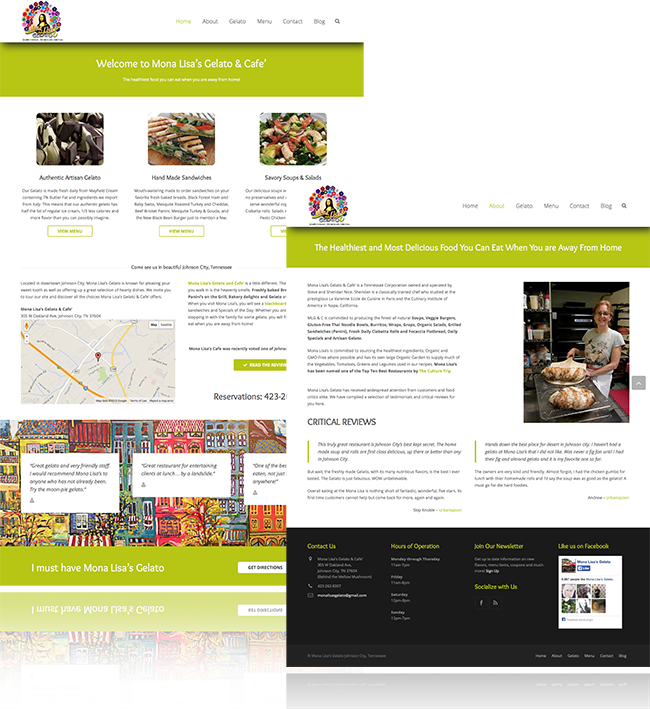 Mona Lisa's Gelato Site & Blog located in Johnson City, TN
Located in downtown Johnson City, Mona Lisa's Gelato is known for pleasing your sweet tooth as well as offering up a great selection of hearty dishes. We invite you to tour our site and discover all the choices Mona Lisa's Gelato & Cafe' offers.
Mona Lisa's Gelato and Cafe' is a little different. The first thing you'll notice when you walk in is the heavenly smells. Freshly baked Bread, Homemade Soups, Panini's on the Grill, Bakery delights and Gelato are immediately perceptable. When you visit Mona Lisa's, you will see a blackboard listing our soups, sandwiches and Specials of the Day. Whether you are looking for a quick lunch, or stopping in with the family for some gelato, you will find the healthiest food you can eat when you are away from home!
Mona Lisa's Cafe was recently voted one of Johnson City's Top 10 Restaurants!
Custom Responsive WordPress Theme Design with Blog

Order Your WordPress Blog Package
Comments from Steve & Sheridan – "Dear Mr. Hanson,
Sheridan and I would like to express our sincerest gratitude and pleasure with the work you did creating our website. In less than 30 days, you learned about our business, asked all the right questions and created a perfect web presence that represents our vision for our business in our community. Your kindness and professionalism coupled with thorough attention to detail and command of graphic design has resulted in a site that has breathed new life into our business. We are really proud of our website!
Within a week of unveiling the site, our business has increased more than 20%. The ties to our social media network have resulted in numerous positive comments from our followers and we receive compliments every day.
To say that we highly recommend Custom Twit will always be an understatement. If you seek a true genius and an artist to create your website, call Brian.
Steve and Sheridan Nice
Owners
Mona Lisa's Gelato & Cafe"
If you like this premium custom responsive WordPress design. Please share below…
If you like this premium custom graphic, please share below… – See more at: http://27.50.64.166/audio-content-solutions-custom-wordpress-blog-design/#sthash.VJ3qrGeJ.dpuf
If you like this premium custom graphic, please share below… – See more at: http://27.50.64.166/audio-content-solutions-custom-wordpress-blog-design/#sthash.VJ3qrGeJ.dpuf