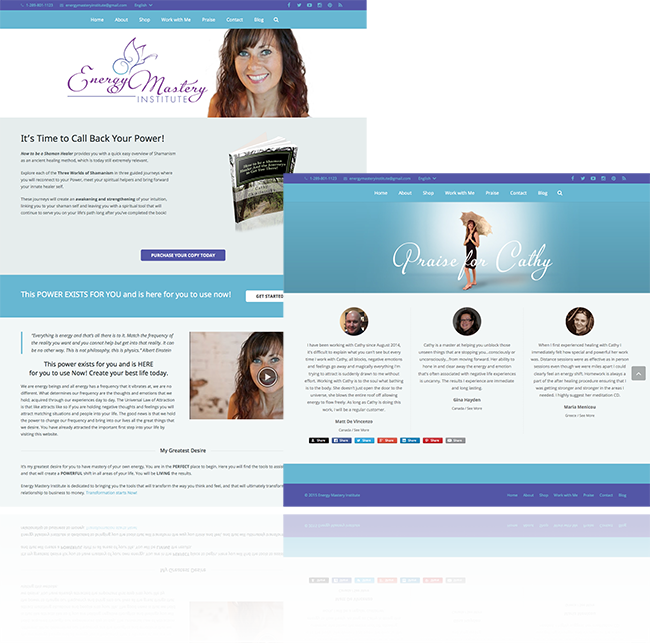 Energy Mastery Institute Site & Blog with Cathy Chmilnitzky
It's Time to Call Back Your Power!
How to be a Shaman Healer provides you with a quick easy overview of Shamanism as an ancient healing method, which is today still extremely relevant.
Explore each of the Three Worlds of Shamanism in three guided journeys where you will reconnect to your Power, meet your spiritual helpers and bring forward your innate healer self.
Custom Responsive WordPress Theme Design with Blog

Order Your WordPress Blog Package
Comments from Cathy – "It was such a pleasure to work with Brian on the creation of my website. He made the whole process of building the site so easy for me. He also masterfully guided me through the ins and outs of running the site on my own. Brian really brought magic to my site with his designing skills!  I just love my website, my vision has come to life. With Gratitude Cathy C."
The new Impreza Responsive WordPress Theme is very IMPRESSIVE! All the sweetest bells and whistles for WordPress design including page builder, easy drag & drop modules, custom page templates, parallax video backgrounds, the works! Seamlessly responsive on computers, devices and the best mobile interface available. Combine this will excellent content for site success!
If you like this premium custom responsive WordPress design. Please share below…
If you like this premium custom graphic, please share below… – See more at: http://27.50.64.166/audio-content-solutions-custom-wordpress-blog-design/#sthash.VJ3qrGeJ.dpuf
If you like this premium custom graphic, please share below… – See more at: http://27.50.64.166/audio-content-solutions-custom-wordpress-blog-design/#sthash.VJ3qrGeJ.dpuf