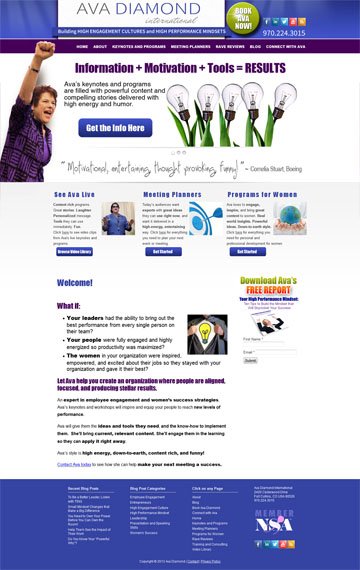 Ava Diamond Custom WordPress Site & Blog
What if:
Your leaders had the ability to bring out the best performance from every single person on their team?
Your people were fully engaged and highly energized so productivity was maximized?
The women in your organization were inspired, empowered, and excited about their jobs so they stayed with your organization and gave it their best?
Let Ava help you create an organization where people are aligned, focused, and producing stellar results.
Custom WordPress Business Theme Site and Blog

Order Your WordPress Package
Custom WordPress site and blog for AvaDiamond.com. This site includes the Headway Themes 2.0.15 developer version combined with YooThemes Widgetkit for a spectacular display. Premium graphics, interactive slider, widgetized footer, custom footer graphics, custom Aweber opt in and lovely testimonial quote really shine when it's business time!
If you like this premium custom graphic, please share below…