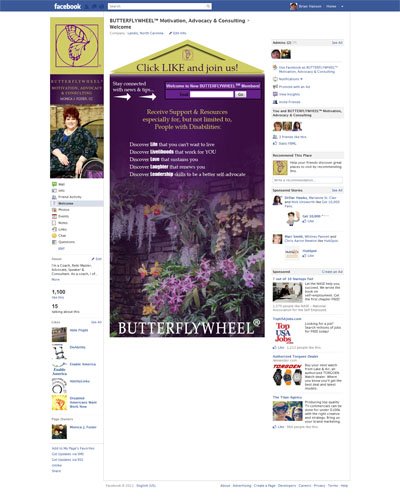 BUTTERFLYWHEEL™ Motivation, Advocacy & Consulting Facebook iFrames Application
BUTTERFLYWHEEL® Motivation, Advocacy and Consulting is where you will receive top-notch life and career coaching with a specialization in people with disabilities. Hi I'm Monica, The Life Beyond Limits Coach®.




Comments from Monica…

"Brian, you're awesome! You never fail to amaze me. You knew the feeling I was trying to give my connections, and clients that BUTTERFLYWHEEL is a soothing home, filled with possibilities. you did it! My FB fan page, Twitter and YouTube look wonderful. I'll get you onto my website very soon! Thank you soooo much for all you do!"

Order Custom Background

Custom Facebook iFrame Application without like-gate reveal, but does include a Constant Contact opt in.