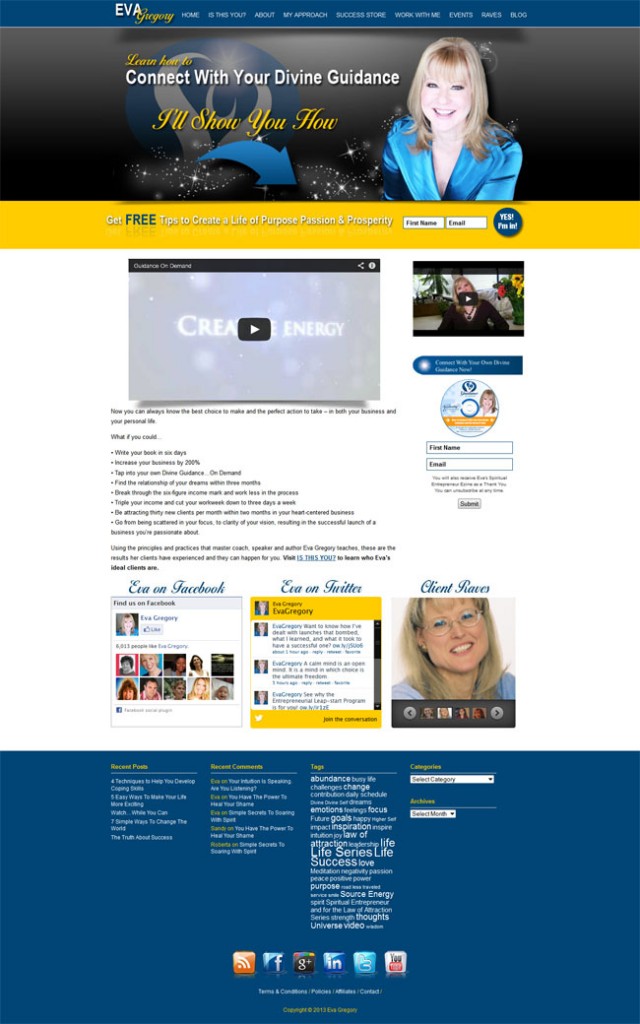 Eva Gregory Custom WordPress Site & Blog
America's Divine Guidance Coach™ Eva Gregory is living her purpose and passion by teaching spiritually-focused entrepreneurs how to tap into and apply their own Divine Guidance to build healthy, six-figure businesses.
Professional coaches, speakers, authors, trainers, and healers who help individuals develop, evolve and transform have raved about Eva's work for years. Eva loves helping the change-agents of the world to have a greater impact, because she believes that this is the fastest way to make the planet a better place.
Eva's custom-designed Spiritually Rich Business System™ paves the path to prosperity faster and more easily than clients can achieve on their own.
Custom WordPress Site and Blog

Order Your WordPress Package
Custom WordPress site and blog for Eva Gregory using the Headway Themes developer version and YooThemes Widgetkit. Opt In Newsletter service, YouTube embedded videos, social rich content and much more went into this elegant design.
If you like this premium custom graphic, please share below…