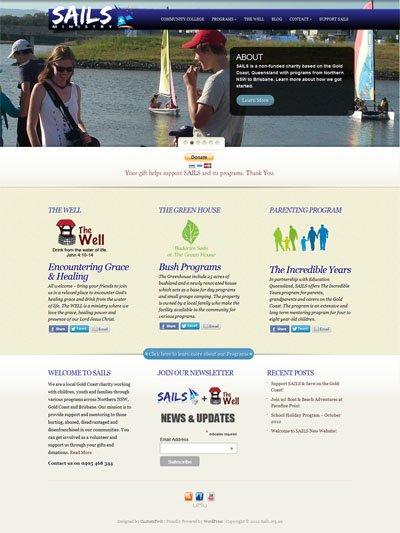 Sails.org.au Custom WordPress Site and Blog
S.A.I.L.S ( Anglican Sailing Adventures in Life Skills) began with a focus on youth at-risk,combining sailing and fishing and other water sports with teaching on Bullying, Anger Management, Alcohol and Drug Abuse, Self Esteem, Family and Relationships. The programs have now expanded to include the SAILS Community College (RTO) offering certified training courses, residential care for young women and single mums and The Incredible Year parenting program.
Comments from Sails…
" "
Order Your Custom WordPress Site and Blog
Custom WordPress site and blog using the Elegant Themes My Cuisine theme customized to meet the needs of SAILS.org.au a site dedicated to helping youth in the Gold Coast Austrailia area.