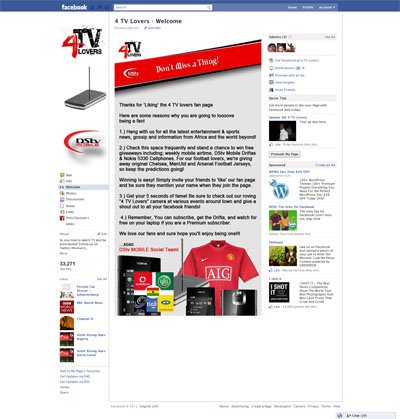 4 TV Lovers Custom Facebook iFrames Application with Like-Gate Reveal
DStv MOBILE has been tasked with the flagship challenge of taking Africa into the innovative and exciting realm of mobile television. With a focus on cellphone technology, DStv MOBILE has put Africa on the international map with its implementation of Digital Video Broadcast Handheld (DVB-H) mobile TV.DVB-H is a type of broadcast technology that enables you to watch crystal clear live…

Comments from 4TV….
""

Order Custom BackgroundSeamless Social Media Branding Custom Facebook iFrames Application with Like_Gating (Fangate) Reveal. Simple yet effective branding showing off their most popular products.