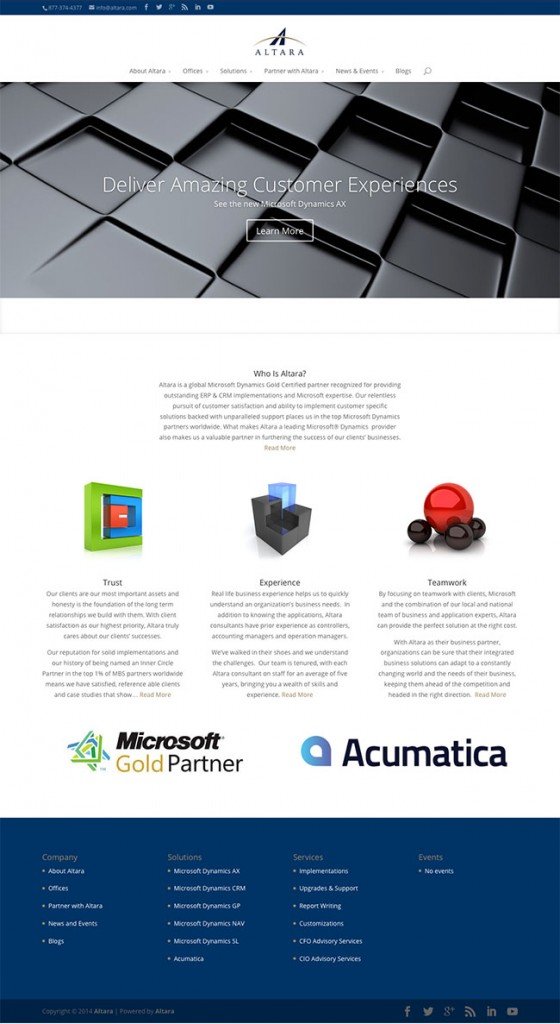 Altara Custom Responsive WordPress Site & Blog
Altara
Altara is a global Microsoft Dynamics Gold Certified partner recognized for providing outstanding ERP & CRM implementations and Microsoft expertise. Our relentless pursuit of customer satisfaction and ability to implement customer specific solutions backed with unparalleled support places us in the top Microsoft Dynamics partners worldwide. What makes Altara a leading Microsoft® Dynamics  provider also makes us a valuable partner in furthering the success of our clients' businesses.
Custom Responsive WordPress Blog Design

Order Your WordPress Blog Package
Comments from Altara – " "
The first of the Acumatica Digital Hub Package family, the fabulous new responsive Divi theme from Elegant themes. The new Divi includes a page builder and modules that make design super fast, really fun and truly responsive over all devices. Computers, notebooks, iPad's, and mobile all built into one easy to use theme. The Altara site includes the full width slider module, blurbs, animated imagery and custom footer widgets.
If you like this premium custom responsive WordPress design. Please share below…
If you like this premium custom graphic, please share below… – See more at: http://27.50.64.166/audio-content-solutions-custom-wordpress-blog-design/#sthash.VJ3qrGeJ.dpuf
If you like this premium custom graphic, please share below… – See more at: http://27.50.64.166/audio-content-solutions-custom-wordpress-blog-design/#sthash.VJ3qrGeJ.dpuf