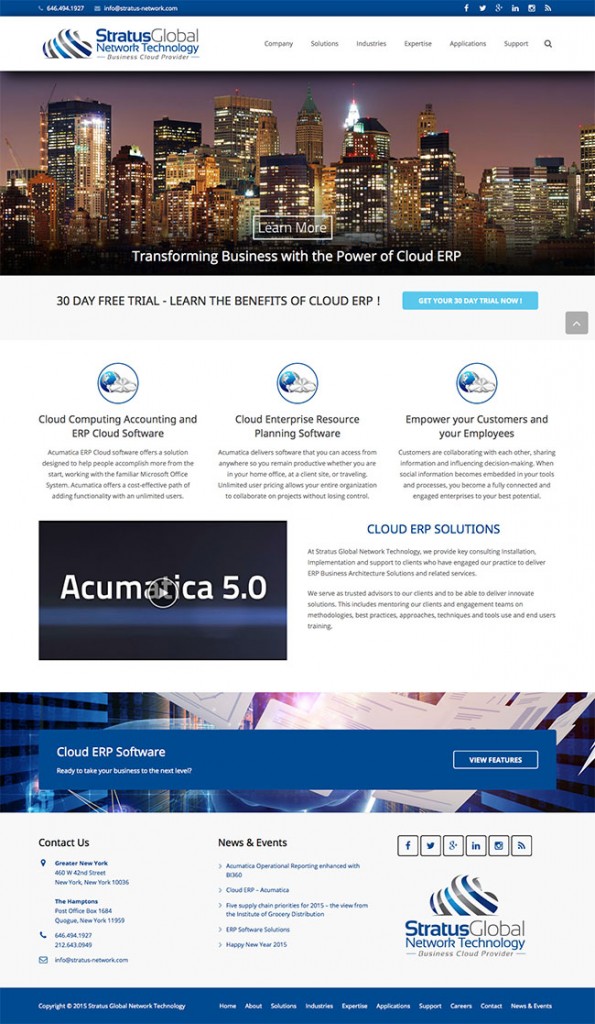 Stratus Global Network Technology Site & Blog
Stratus Global Network Technology
Stratus Global Network Technology  is a New York based Information Technology and Business Solution Company focusing on Installation, Implementation, deployment, training and support of ERP cloud software, professional consulting and IT outsourcing for comprehensive business solutions to any size company, for any business process, enabling it to compete in today's challenging national and international economics' arenas.
Custom Responsive WordPress Blog Design

Order Your WordPress Blog Package
Comments from Stratus/Jorge – " "
The 2nd of the Acumatica Digital Hub Package family, this time using the Impreza theme by CodeCanyon. Impreza is a fine responsive theme with all sorts of bells and whistles. Parallax backgrounds, drag & drop modules, page sections, responsive youtube videos all pristine on mobile, devices and computers.
If you like this premium custom responsive WordPress design. Please share below…
If you like this premium custom graphic, please share below… – See more at: http://27.50.64.166/audio-content-solutions-custom-wordpress-blog-design/#sthash.VJ3qrGeJ.dpuf
If you like this premium custom graphic, please share below… – See more at: http://27.50.64.166/audio-content-solutions-custom-wordpress-blog-design/#sthash.VJ3qrGeJ.dpuf