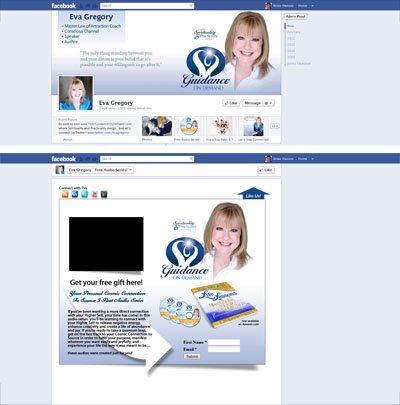 Eva Gregory Custom Facebook Business Page Timeline and App
Eva Gregory
Be sure to visit www.YourGuidanceOnDemand.com where Spirituality and Practicality merge…and let's connect on Twitter!
America's Divine Guidance Coach, conscious channel, speaker and author of The Feel Good Guide to Prosperity and co-author of Life Lessons for Mastering the Law of Attraction with Jack Canfield.
Comments from Eva…
"Brian, I've said it before and I'll say it again. You ROCK THE PLANET! You had my Facebook page completely revamped with the new timeline the same day Facebook announced it…all of it done very strategically. You really know your stuff and you are a delight to work with! You have a client for life in me. I've been getting wonderful feedback on my page. I cannot recommend you and your work highly enough! "
Order Your Custom Facebook Package
Custom Facebook Business Page Timeline Package. Includes a custom Facebook Cover Image, a Welcome Landing iFrame Application, App View Image and custom Profile. The landing page has video and opt in to product package.