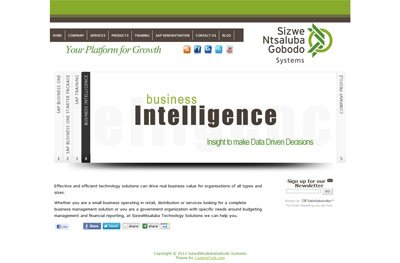 SizweNtsalubaGobodo Systems Custom WordPress Site & Blog
SizweNtsalubaGobodo Systems

Effective and efficient technology solutions can drive real business value for organisations of all types and sizes.

Whether you are a small business operating in retail, distribution or services looking for a complete business management solution or you are a government organization with specific needs around budgeting management and financial reporting, at SizweNtsaluba Technology Solutions we can help you.

Order Custom Background

Custom WordPress Site & Blog using the Headway WP Developers version theme. This site includes the premium Slidedeck plugin, simple Constant Contact opt in and a well organized blog. Simple, clean, effective presentation.