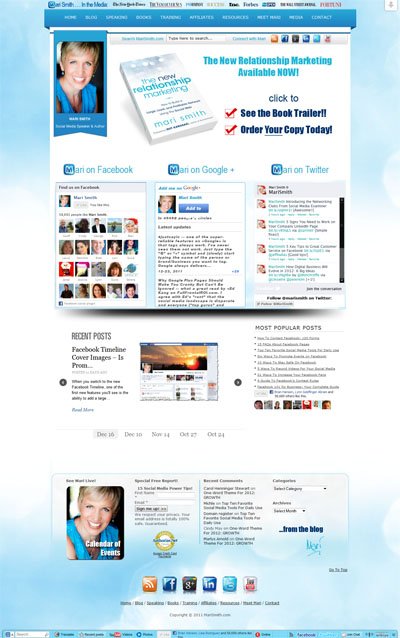 Mari Smith Custom WordPress Site & Blog
As soon as you hear me speak, you'll know I have an accent! I was born in Canada (near Toronto) – though my parents are both 100% Scottish. When I was two, my folks moved out to the boonies of BC where I spent my childhood with my four sisters. Then my parents divorced when I was 12 and my dad got custody of all the girls and decided to emigrate back to Scotland where his immediate family lived. My mom stayed in BC.

I lived in the UK for the next twenty years… until, out of the blue, I got an invitation to come to San Diego, California. It was one of those defining moments in life – I just knew there was a whole new life waiting for me in sunny California! Read More

Comments from Mari…

Order Custom Background

Custom WordPress Site & Blog using the Headway WP Developers version theme. This site has it all! Custom image gallery, slidedeck recent post plugin, Facebook Like, Google Plus, Twitter Stream, complete custom footer with custom widgets and custom footer graphics. Once you get to the blog, there is even more action with full social integration, Disqus commenting, recent post slider and much much more. This premium site enhances some of our advanced techniques.We are proud to be part of Team Mari.