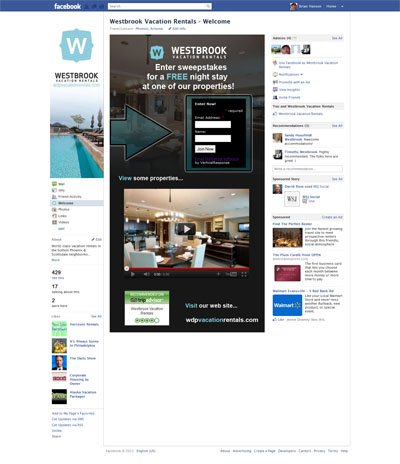 Westbrook Vacation Rentals Custom Facebook iFrame Application with Like-Gate Reveal
Westbrook Vacation Rentals

World-class vacation rentals in the hottest Phoenix & Scottsdale neighborhoods.

Westbrook's

Scottsdale vacation rentals

put you in the heart of everything Arizona has to offer. Right in your own backyard you will find art galleries, shopping, and world-class golf. A stone's throw from your Arizona Vacation Rental, you can explore Camelback Mountain, or spend an afternoon watching the Cactus League gear up during spring training.




Comments from WVR…

" "

Order Custom Background

Custom Facebook iFrame application welcome landing page with like-gate reveal, embedded custom youtube video and click to like call to action.