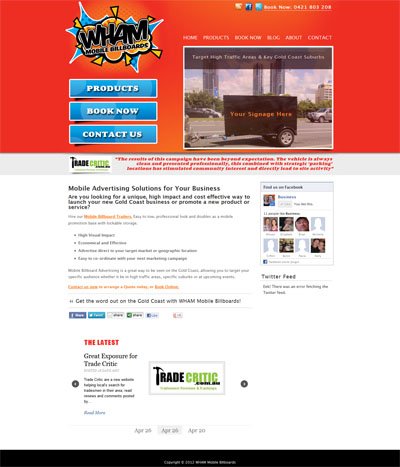 Wham Mobile Billboards Custom WordPress Site and Blog
WHAM Mobile Billboards
Mobile Advertising Solutions for Your Business
Are you looking for a unique, high impact and cost effective way to launch your new Gold Coast business or promote a new product or service?
Hire our Mobile Billboard Trailers. Easy to tow, professional look and doubles as a mobile promotion base with lockable storage.
High Visual Impact
Economical and Effective
Advertise direct to your target market or geographic location
Easy to co-ordinate with your next marketing campaign
Mobile Billboard Advertising is a great way to be seen on the Gold Coast, allowing you to target your specific audience whether it be in high traffic areas, specific suburbs or at upcoming events.
Order Your Custom Site
Custom WordPress Site and Blog using the Headway Developers Theme. This stunning site includes a photo gallery, hot links, Facebook Like Box and a slick Slidedeck featuring the most recent posts. Social sharing tools wrap up a solid design.