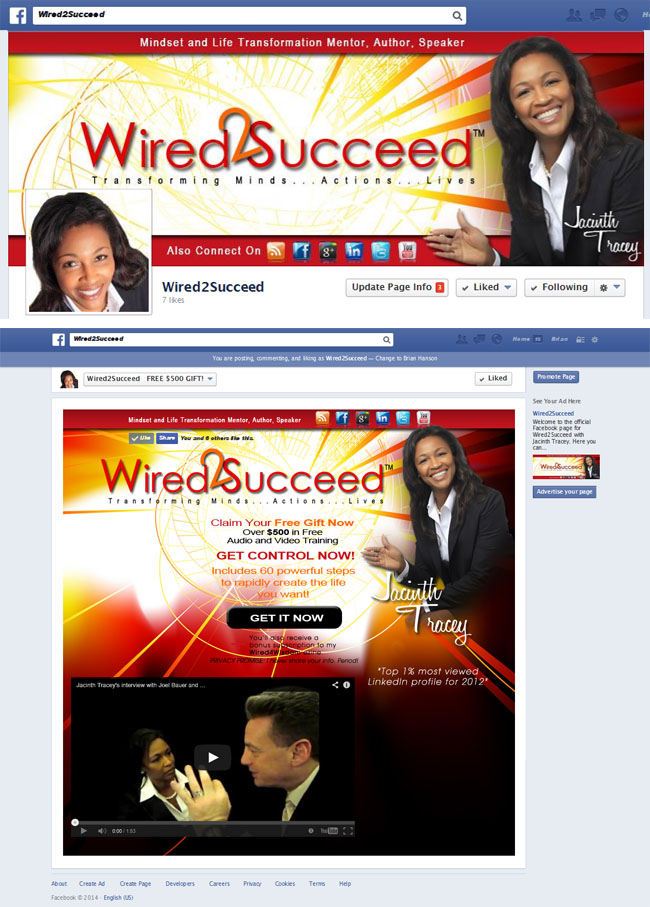 Wired2Succeed with Jacinth Tracey Facebook Timeline, Avatar & Landing Page
Wired2Succeed with Jacinth Tracey
I'm so glad that you're here because you and I are a lot alike. We're both trying to make our lives as meaningful as possible. We both want to have the freedom to express our emotional needs, wants and desires in a way that brings joy and fulfillment to ourselves and to those we love, while at the same time reaching our financial, spiritual, physical, and creative goals.

Custom Facebook Timeline Cover, Seamless Facebook Avatar & Facebook Landing Page Opt In


Comments from Jacinth…
"Brian did a fantastic job on my Wired2Succeed website. I've had many compliments about it from peers and clients alike. He came recommmended by a colleague who knew I didn't like the way my original website looked (using another web developer) and she'd used Brian's services to help her with her website development and was very happy.
I've been working with Brian for almost two years now and rely on his web and IT expertise to help me with issues related to my website and social media links (YouTube, Facebook, etc.). He's always responsive and gets the job done efficiently with attention to quality.
I highly recommend Brian and his CustomTwit services."
Jacinth Tracey, BSc, MA, PhD
Founder and CEO
Wired2Succeed
http://www.wired2succeed.com
Order Your Facebook Package
Custom Facebook Timeline Cover, Seamless Facebook Avatar, Facebook Landing Page with opt in and Youtube Video embed created for Wired2Succeed with Jacinth Tracey – Transforming Minds…Actions…Lives.
If you like this premium custom graphic, please share below…