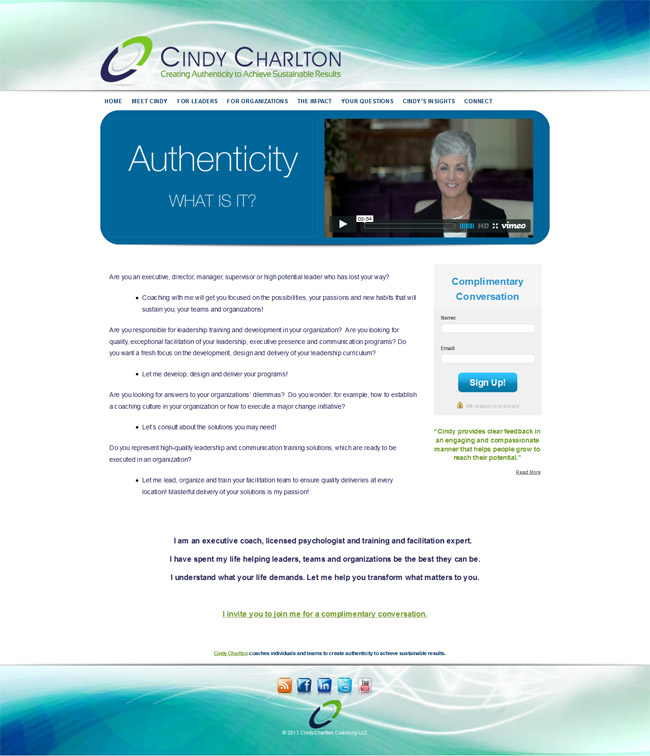 Cindy Charlton Custom Web Site & Blog
Are you an executive, director, manager, supervisor or high potential leader who has lost your way?
Coaching with me will get you focused on the possibilities, your passions and new habits that will sustain you, your teams and organizations!
Are you responsible for leadership training and development in your organization?  Are you looking for quality, exceptional facilitation of your leadership, executive presence and communication programs? Do you want a fresh focus on the development, design and delivery of your leadership curriculum?
Let me develop, design and deliver your programs!
Custom WordPress Business Theme Site and Blog


Comments from Cindy…
"Brian is the most patient, kind and creative person we know in the web design field.  He has a formula for how to make things work well and if you come prepared, in no time flat you have a website!  He works completely virtually and his response to anything we wanted was "let's see what we can do."  He never said no to any idea we suggested and in fact, he made ideas better!  And we had a bunch of fun working with him too!  We highly recommend Brian for all things related to a marketing package.  Hire him and get results well beyond what you expected! ~Cindy C."
Order Your WordPress Package
Custom WordPress site and blog for CindyCharlton.com. The Headway Themes 2.0.15 developer version combined with YooThemes Widgetkit creates this simple, yet effective, design. Vimeo video embed, custom footer and social badges make this business site easy to navigate and share.
If you like this premium custom graphic, please share below…