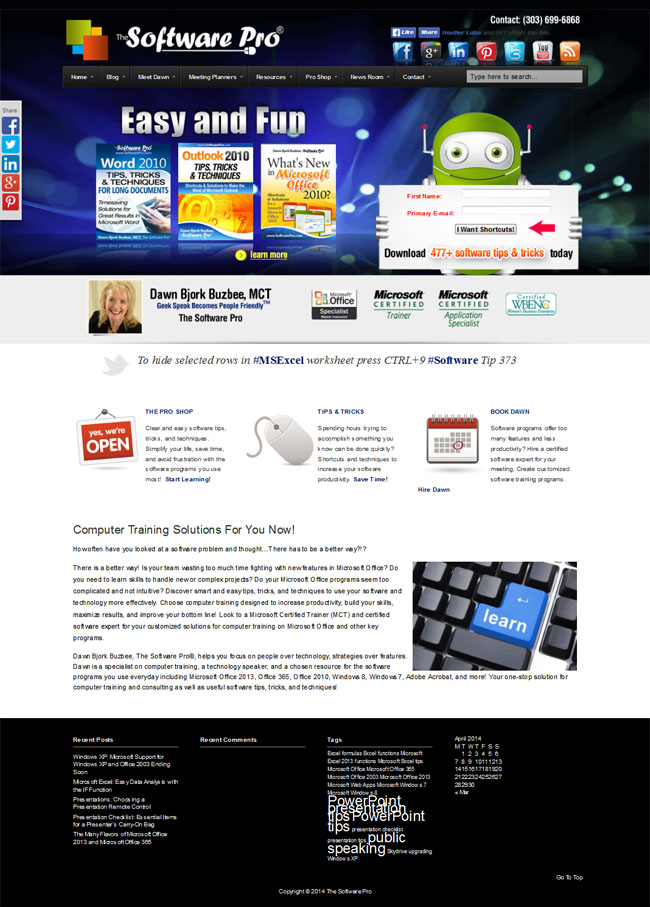 The Software Pro Custom WordPress Site & Blog
Computer Training Solutions For You Now!
How often have you looked at a software problem and thought…There has to be a better way?!?
There is a better way! Is your team wasting too much time fighting with new features in Microsoft Office? Do you need to learn skills to handle new or complex projects? Do your Microsoft Office programs seem too complicated and not intuitive? Discover smart and easy tips, tricks, and techniques to use your software and technology more effectively. Choose computer training designed to increase productivity, build your skills, maximize results, and improve your bottom line! Look to a Microsoft Certified Trainer (MCT) and certified software expert for your customized solutions for computer training on Microsoft Office and other key programs.
Order Your Custom WordPress Theme
Comments from Dawn Bjork Buzbee – "Are you wasting time and money on a website that no one can find or use? Brian is an expert in all things related to an effective web presence—from WordPress to graphics to SEO … and more! Brian knows his stuff and does a fabulous job of sharing his expertise so I am empowered to update and add content to my site at any time. Plus, he knows tons of insider tricks and shortcuts! I am a software training expert and make my living from knowing the tips and tricks of top programs. However, I would have wasted 100's of hours of time trying to learn WordPress on my own and would not have the SEO and visit success that I have with my site if it wasn't for Brian! One of the best investments I've made in my business!"
Custom WordPress Business Theme designed The Software Pro offering a fabulous combination of Headway Themes, Uber Menu, YooThemes Widgetkit, fantastic slider graphics, and a widgetized footer to boot! An opt in solidifies this solid, custom WordPress business theme.
If you like this premium custom graphic, please share below…