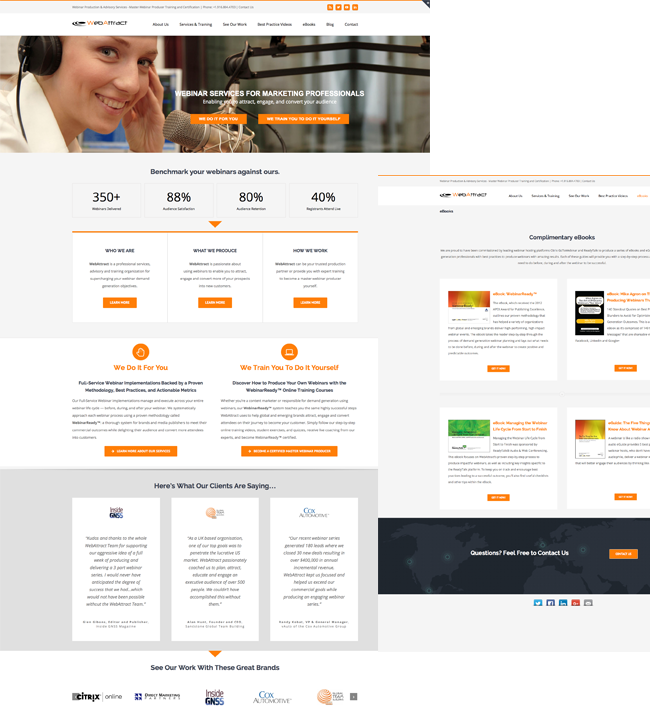 WebAttract Webinar Services WordPress Development & Blog
Since 2008, WebAttract has evolved into a professional production services, advisory services, and training organization of webinar experts.  We are absolutely passionate in enabling our clients to attract, engage and convert more of their prospects into new customers, while helping them retain current ones to become their true customer advocates.
What has really changed over the last several years, is recognizing that today's webinar attendees aren't necessarily "sales ready" to buy now; instead they are often on a journey to get better educated. That's where we make you and your speakers shine.  We work closely with our clients to ensure they are able to tell a great story with demonstrable business outcomes.  Done right, this will inspire your attendees to want to learn more and continue the conversation after the webinar.
Custom Responsive WordPress Business Theme Design with Blog

Testimonial from WebAttract ~ Mike A
"Hiring Brian was both the right choice and best investment I made last year.  Our former 2012 website was getting long in the tooth and we needed to start and rebuild from the bottom up.  He more than delivered in helping us choose a template that would align with our needs, and then went on to craft a website that was beyond our expectations.
He knows how to listen to our vision and requirements and offers up great ideas.  Brian then follows through to make sure we were absolutely happy with the results.
I would highly recommend him (and already have given his name to a handful of business partners/colleagues) to be their "goto" person for website design, implementation and maintenance.  Plus he's a fun person to work with too." ~ Mike A.
Order Your WordPress Blog Package
If you like this premium custom responsive WordPress design. Please share below…